Fantasy Shoes for Victoria 4
Fantasy Shoes for Victoria 4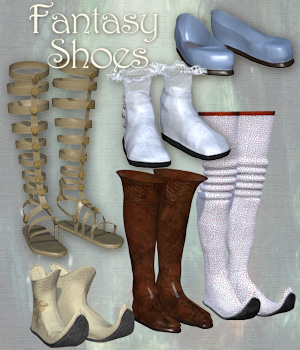 15.95$
Fantasy is a fantasy conforming shoes set for Victoria 4 from Daz3D, working also with Aiko 4 and The girl 4.
It contains 6 pairs of shoes or boots extracted from the following sets :Froufrou, Rebel, Greek, Sixties, Lutine and Lutine2.
All are compatibles with DazStudio but some textures may work differently in DazStudio.
The pack contains :
6 pair of conforming shoes in cr2 format
10 Mat poses for "Froufrou" pz2 format
5 Mat poses for "Rebel" pz2 format
5 Mat poses for "Greek" pz2 format
4 Mat poses for "Sixties" pz2 format
6 Mat poses for "Lutine" pz2 format
19 Mat poses for "Lutine2" pz2 format
88 texture maps in high resolution JPG format (including diffuse,transparency, bump and displacement maps)
templates and obj files are included
Little depicted character, and decor are not included in this pack.