Lutine2 Conforming Version
Lutine2 Conforming Version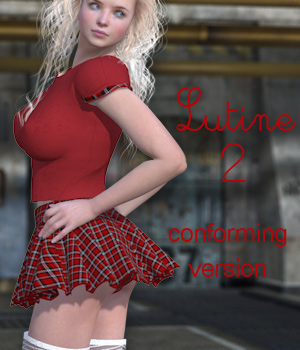 11.95 $
Lutine 2 Conforming Version is a fantasy conforming clothing set for Victoria 4, Aiko 4, The Girl 4, Elite morphs from Daz3D.
Created for Poser but compatible with Daz Studio.
The pack contains :
1 skirt in cr2 format.
1 top in cr2 format
1 panties in cr2 format
1 pair of boots in cr2 format
41 Morphs of adjustment for the boots
57 Morphs of adjustment for the top
32 Morphs of adjustment for the skirt + 4 morphs of movement (front, back, left and right)
29 Morphs of adjustment for the panties
(To see on promotional images)
4 Mat poses for the skirt in pz2 format
9 Mat poses for the top in pz2 format
5 Mat poses for the panties in pz2 format
12 Mat poses for the boots in pz2 format
43 texture maps in high resolution JPG format (including diffuse,transparency, bump and displacement maps)
templates and obj files are included
Depicted character, hair and decor are not included in this pack.