Fit For Willow - PetalDress
Fit For Willow - PetalDress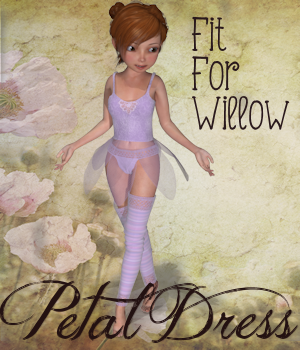 "Fit for Willow - Petal Dress" is an update of Petal Dress for V4.
It is designed to fit to Willow (Willow is a Dawn morph).
Please note you must have the pack : "PetalDress dynamics clothes for V4" in order to make it work.
The pack contains :
3 dynamic clothes (dress, panties and stockings) in prop format.
1 props not visible during rendering for giving the magnitude to skirt