Fancy Manga LF and Anime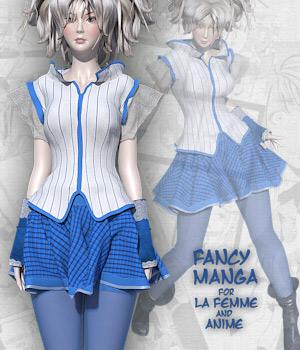 15.95 $
Fancy Manga for LF Anime is a clothing pack for La Femme to use in Poser, with conforming shoes and dynamic skirt, top, gloves, pants and socks.
The pack have many morphs to help the fit on most La Femme morphs (Body Morphs and LFBodyKit) and for Anime.
Poser 6+ less and Cloth room are necessary to use the dynamics clothing.

Use of Dynamic augmented :
Load LaFemme
Put LaFemme in zéro position
Apply the packs of morphs on LaFemme
Load the dynamic clothing and fit to the morphs choices
Load the pose
Do the simulation

Tutorials to use dynamic clothing :
https://www.renderosity.com/article/22867/how-to-get-the-most-out-of-posers-dynamic-clothing
http://tipol-creations.e-monsite.com/en/blog/tutorial/utiliser-les-vete.html
http://anikakin.free.fr/HMann/DynamiqueHMann0.htm
http://www.renderosity.com/mod/tutorial/index.php?tutorial_id=2079

The pack contains :

1 dynamic Gloves in pp2 format.
1 dynamic Top in pp2 format.
1 dynamic Skirt in pp2 format.
1 dynamic Pants in pp2 format.
1 dynamic Socks in pp2 format.

1 conformings shoes in cr2 format

4 MAT poses for Shoes, Top, Skirt, Pants in mc6 format
5 MAT poses for Socks and Gloves in mc6 format

66 texture maps in high resolution in JPG format (including diffuse,transparency, bump and displacement maps)

templates and obj files are included

Depicted characters, hair, poses and background are not included in this pack.