Christmas Morning - The Night Dress
Christmas Morning - The Night Dress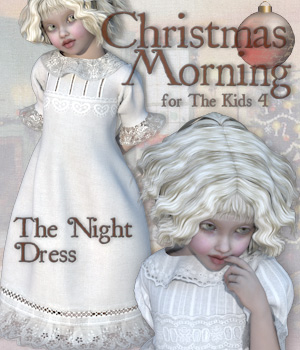 7.95 $
Christmas Morning - The Night Dress est un vêtement dynamique pour The Kids 4 de Daz3D.



Poser 6+ et une salle de tissu sont nécessaires pour utiliser les vêtements dynamiques.





Ce n'est pas compatible avec DazStudio mais vous pouvez exporter la scène dans Dazstudio




avec un plugin





Des tutoriels pour utiliser des vêtements dynamiques sont inclus dans le




read me.





Le pack contient:





1 robe de nuit dynamique au format prop.





3 Mat poses





12 cartes de texture au format JPG 3000 x 3000 pour la combinaison (y compris diffuses, transparences, bump et déplacement

s )




Templates et fichiers obj inclus



Le personnage, les cheveux et la décoration représentés ne sont

pas inclus dans ce pack.
Date de dernière mise à jour : 07 déc 2019